FACILITIES AT ELLEN HOUSE
TO MAKE YOUR STAY AS COMFORTABLE AS POSSIBLE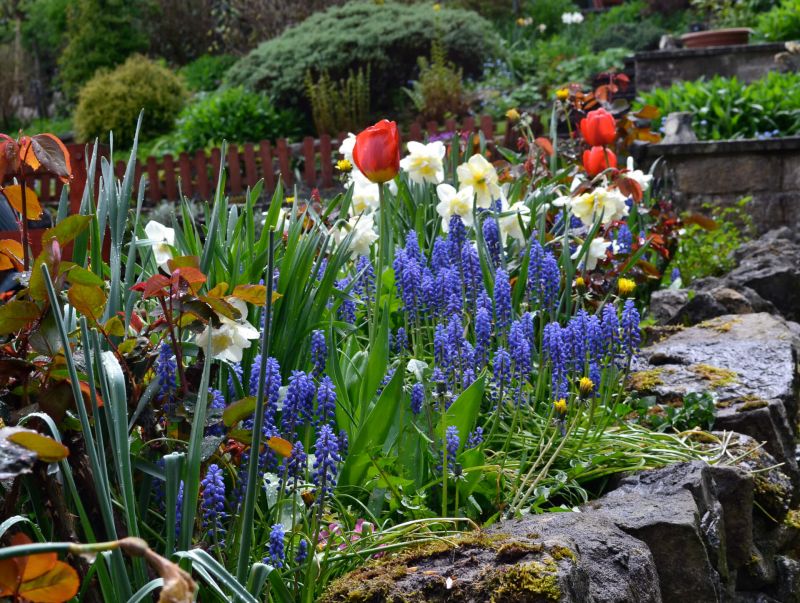 EXPLORE THE GARDEN
FACILITIES
Free Wi-Fi Internet access
Roadside parking available
Flatscreen freeview TV in all rooms
Iron and ironing board available on request
Full English breakfast after 7:30am
Vegetarian & vegan breakfast menus available
Locally sourced and Fairtrade products
Hot drink making facilities in all rooms
Totally non-smoking establishment
ACCESS STATEMENT
Introduction
Our guest house, Ellen House, is an Edwardian terraced house with three bedrooms on the first floor.  As the rooms can only be reached via stairs, guests with limited mobility will have difficulty accessing our accommodation.
This statement is a summary of the services we provide.  If you have any further questions, please feel free to contact us on 01629 55584. The information in this document is also available in the information folders in the rooms.
Pre-Arrival
We are situated in a quiet location on the outskirts of Matlock, yet within easy walking distance of the town centre. The bus and train stations are 300 metres away.
There are good local taxi services.  We can make a booking on your behalf if needed. Telephone numbers are available in the folders in each bedroom.
Brochures and menus can be provided in large print if needed.
Unfortunately we do not have the facilities to provide any documents in Braille. 
Our website www.ellenhousebandmatlock.co.uk provides pictures of our accommodation and further information about the services we provide. Please refer to the 'Contact Information' section at the end of this document for full details. 
Arrival & Car Parking Facilities
Please advise us of your estimated time of arrival so that we can ensure that we are at home to welcome you.
Early arrival (before 4.00 pm) will be accommodated where possible. 
Although we do not have designated parking for guests, it is normally possible to park in front of the house. 
We offer assistance with luggage. 
Main Entrance & Reception
There is a 14 cm step into the main entrance. 
The front door is always locked.
Public Areas - General (Internal)
The dining room is adjacent to and on the same level as the entrance hall.
There are 15 steps to the first landing.
All floor coverings are short pile carpets. 
Information on local tourist attractions is available in the entrance, on the first landing, as well as in the rooms
Books on walks in and around Matlock, as well as an Ordinance map are located on the first landing. Guests are welcome to use these maps and books, but are asked to return them before departure.
Public Areas - WC
All bedrooms are en-suite.
No further toilets are available for the use of guests. 
Dining Room
The dining room is situated on the ground floor.
There are 2 square tables as well as one big rectangular table.
Fresh milk is kept in the mini fridge in the dining room.  Please help yourself.
Wine glasses and a bottle opener are also kept in the dining room.
Bedrooms
All bedrooms are located on the first landing. Please note that this also applies to our Garden Room (Room 3).
We have one room with a double bed, one room with a king size bed and one room with two single beds. 
There are en-suite facilities in all the bedrooms consisting of a shower, WC and a washbasin. All bathrooms are also provided with ample shelving. 
All rooms have adequate storage space consisting of a cupboard, bedside tables and at least one chair. Please note that our smaller double bedroom does not have a wardrobe; instead it has hanging space as well as a dressing table with inbuilt drawers.
Tea and coffee facilities and bottled water are provided.  
Decaffeinated coffee and rooibos tea available on request.
We also have an iron and ironing board available.
Further facilities in the rooms include a hair dryer, colour TV, hospitality tray with a welcome pack of refreshments, radio/alarm clock and a selection of magazines and pamphlets with information on local walks.
We also provide basic toiletries such as bath gel, soap, shampoo, hand cream and a face towel. Spare toothbrushes and razors can also be provided.
There is an information folder in each room containing emergency numbers and information on more local tourist attractions and local restaurants.
Extra blankets and pillows are provided in the cupboards.
Grounds and Gardens
We have a terraced garden for the use of guests which can be accessed through the fire escape door on the first floor landing.
Due to the elevation, care should be taken, especially with children.
Additional Information
There is a fire extinguisher in the entrance hall as well as opposite the night bell on the first floor landing.
The building can be evacuated via the fire escape door at the end of the corridor on the first floor or the door in the entrance hall. In case of emergency, there is also an exit via the kitchen (adjacent to the dining room) on the ground floor.
Please use the night emergency bell situated on the first floor landing if you require assistance.
Please note that no smoking is allowed in the house but you may smoke in the garden.  Ashtrays are provided outside.
Contact Information
| | |
| --- | --- |
| Address: | 37 Snitterton Road, Matlock, Derbyshire, DE4 3LZ |
| Telephone: | 01629 55584 |
| Email: | Contact us here |
| Website: | www.ellenhousebandbmatlock.co.uk |
| Hours of operation: | We are open all year. |